General Assembly & Girlboss recently hosted a workshop, Learning New Skills is the Key to Career Freedom, "for career changers, mission-driven hustlers and those who want to find their purpose, passion and make an impact!" The session featured graduates of General Assembly (GA) bootcamps sharing their success stories—and offering advice—about shifting to a career in tech.
Career coach Jennifer Harrold dove right in asking probing questions about the most important steps each took initially, and along the way, that resulted in a radical career change. Below are some of the takeaways from these inspiring women who in the moderator's words, "had no technical skills whatsoever, and yet now here you are sitting at the top."
First steps
"The most important step for me, that was also the hardest one, was just committing to attend General Assembly," said Mocha Brown.
"I told myself a lot of lies and made myself insecure about pursuing this career. I thought, 'I am an artist; I have a creative brain.' This field felt like the complete opposite of where I should be. I didn't have a degree, all I had was experience in retail. It was too late for me to start a career in tech. I'd have to have a four-year degree in computer science. But I'm really glad that I didn't listen to those negative thoughts because here I am."
Today, Mocha brings that creativity to translating complex billing and business rules into Javascript and SQL—as a Software Engineer at Lob. "The first step is letting go of any negative view of yourself or stereotypes about entering tech, and then committing to learning and pushing yourself."
Kelly Smith, after 5 years in the advertising industry, is now a UX designer at PayPal. "I decided to pivot into UX because I realized that I was miserable at my job," Smith said. "Acknowledging that life is too short to be miserable, in your job, with any relationship, and just owning that and trying to improve…I felt like I was capable of doing so much more."
Beth Wolffram was getting her masters degree in Human Rights Law when she realized she wasn't interested in going into a policy role. "I was more interested in 'Why are things built the way they are?' and, 'How do those decisions get made?'" She acknowledged that GA opened her eyes as to what was possible and could provide her with processes and tools to transition. Beth is now a UX researcher at Google.
She prescribed homework like checking out blogs, websites, and influencers to see what part of UX design sparks your passion, "most UXers have a specialty, but we're also all generalists." She also recommends doing some coding, to better understand technical underpinnings of the web and how apps work. "It's just taking it one step at a time and not feeling overwhelmed…You are the creator of your own destiny, so places like GA can help you get you where you want to go, but it's really important to be honest with yourself and what are you interested in. What are you curious about? And let that guide you. It will lead you to the people and opportunities that you need."
As a veteran of the U.S. Navy, Yohlanna Cort not only attended GA's bootcamp, but also the military's. After she left the military, she felt a bit lost and doubted her exit. But ultimately, decided that going into tech was for her.
"It's just knowing that you want better for yourself, and you feel deep down that there's more for you out there. And so never ever deviate from that, always follow that, no matter what anyone says," Yohlanna said. "I was working four jobs at the time in Virginia and I really just dropped everything, and some of the family members thought I was crazy, but I knew in my heart that this is something I want to do." Yohlanna is now a Software Engineer at JPMorgan Chase in NYC.
Bootcamp
Yohlanna said, "I went to college, but when you go out into the 'real world' it can feel very different." On the other hand, "Bootcamp simulates reality for you…Something will go wrong now and I'm just like, 'Well at least I have a practice for this.'" In addition to white-boarding—and snacks, which sadly are absent from the military's boot camp—Yolanda appreciated learning how to utilize resources like Stack Overview or YouTube. She credits bootcamp for her ability to apply her newfound understanding and appreciation of her learning style to her working style. "[GA] gave me a starter toolset and now it's on me to acquire other tools and sharpen the ones that I do have." 
"GA completely prepares you by going through the design process at least four or five times in groups and individually, and literally that's what we do in the workplace," said Beth.
Kelly also noted that her assignments at GA mimicked the real workflow of a UX professional. For example, "We would conduct user research by just going up to strangers and talking to them, and I was terrified, but that was just part of the job…to be a UX designer you have to be curious…that took me a long time to get over but it's something that has carried me throughout my career." Kelly credits bootcamp with the lesson, "You have to get comfortable with being uncomfortable."
Each of the women agreed that GA was hard work. "Stick to it! Even though you may not understand everything right at the beginning, that's normal," Mocha said. "If I had given up or stuck with the assumption that because I had no idea what I was doing I couldn't be successful, then I wouldn't be here today."
Life after Bootcamp
Beth noted GA's focus on adopting a growth mindset was key, and she took this out into the workplace. "Overall, I think that's probably the biggest value that GA delivers because on top of the skills, just being completely equipped to be confident to go into that first role is huge. You know that everyone's got your back—your coaches, fellow students, and your network and everyone you've met—you're not out there alone anymore," said Beth.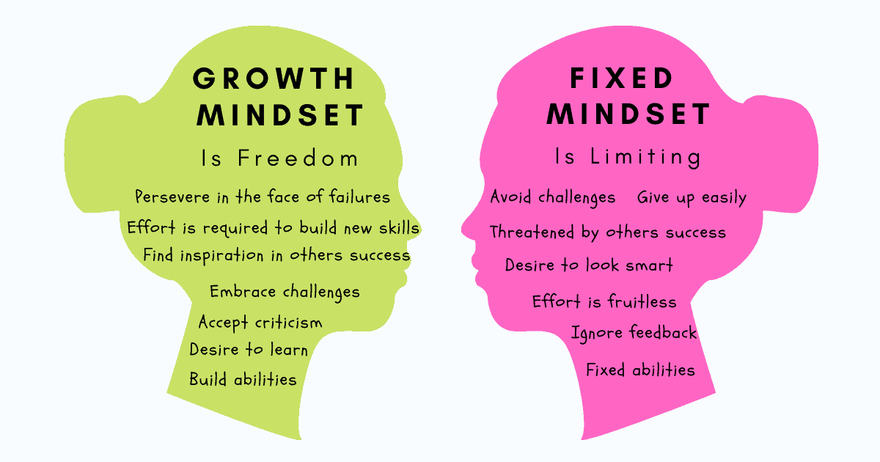 image courtesy of https://www.techtello.com/fixed-mindset-vs-growth-mindset/
GA's coaches reinforced the idea that applying for jobs is more than as Mocha puts it, "Hey, I can code, hire me."
"I think one of the most important things was learning how to brand myself because outside of the technical skills, companies want to know what it's like for you to work with them. You can do that by branding yourself on your resume and on your LinkedIn profile," Mocha said. "Also, it's a lot of work, but for each job that I applied to, I made sure to showcase the specific skills that they were asking for in the job description."
As far as the interview process goes, Mocha learned being positive is really important, but so is preparedness. She offered the following advice: "If you are going to interview for a company that may give you an algorithm problem, the best thing you can do is go to Hack Ranker and practice one or two problems a day."
"One of the biggest things that helped me land a job thanks was getting paired up with a mentor—another GA grad—who gave me that boost of confidence that I needed and helped me refine my portfolio," Kelly said. Speaking of your portfolio, Kelly recommends you memorize your projects inside and out in order to comfortably and confidently talk about them—this will prevent you from just staring at your screen and scrolling, and instead, allow you to really engage with your interviewer.
"There were moments after [bootcamp] graduation where I had imposter syndrome—which I think is normal when you're changing careers—but I just felt proud of myself for doing something so scary, completely pivoting, that it gave me confidence," Kelly said.
When facing the fear of "only" being a bootcamp grad compared to someone who has a four-year degree, Kelly reminded the group, "they asked to talk to you so they're interested."
It's a message worth repeating and Jennifer thought so too. "There is really not a universe in which a recruiter or a hiring manager is going to reach out to you 'just for Skittles.' No one has time to pretend to interview you for something they don't think you can do!"
Beth agreed: "You did it, you've earned it, you do belong there."
Fear: Then and Now
In twelve months, Mocha went from a conversation she had with a customer about coding ("what is that?") to getting her first engineering job. During the entire process, the fear—of failing and succeeding—was a constant. "I didn't conquer my fears before joining GA, I learned how to work alongside them. If I had waited until I conquered my fears, I wouldn't have gone through with it," Mocha said. "It's hard work, but I want to say again, don't underestimate yourself because two years ago there was no reason for me to think that I would be here. I want people to know that it's definitely possible."
"Feel the fear and do it anyway. It's more important for you to learn and to become who you feel you're destined to be than it is to feel that moment of frustration or uncertainty. I love the quote 'I didn't come this far to only come this far'," said Yohlanna. "Once you're in it and you're going through the frustrating times, you keep going because until you get the life that you really envisioned for yourself, just keep going. You didn't come this far to only come this far. Please keep going."
---
General Assembly offers part-time programming to help working professionals level up through in-depth training in digital marketing, data analytics, product management, UX Design and other in-demand skills. The immersive programming prepares adults for a full career change and entry into roles in Software Engineering, UX Design or Data Science. Get matched with the perfect program.
Girlboss exists for women to (re)define success on their own terms. They are a community of women who inform, entertain, and inspire action through content and experiences such as the GirlBoss Podcast, Blog, and Job board. "We are unapologetic in our beliefs and values of supporting girls and women who are chasing dreams both big and small in a shame-free zone."