With a new operating system comes a new battleground, so it's time to see if either Google Chrome or Microsoft Edge runs best on Windows 11.
Windows 11 has been an exciting change for Windows users. Among the many UI changes, there has been an increased focus on persuading Windows 11 users to use Microsoft Edge as their primary browser. There is no doubt that Microsoft Edge is levels ahead compared to what it was in the past, but is it good enough to replace Google Chrome's long-standing reign as the most popular web browser on Windows.
Both Google Chrome and Microsoft Edge have received several significant updates that introduced new features and improved existing ones over the past year. But as Windows 11 gains popularity, it is crucial that you know which is the best Windows 11 web browser.
Google Chrome vs. Microsoft Edge: Performance
Everyone wants a fast browser, but when you have to choose between two powerful web browsers that are both powered by the same engine (more on that later), things can get a little complicated.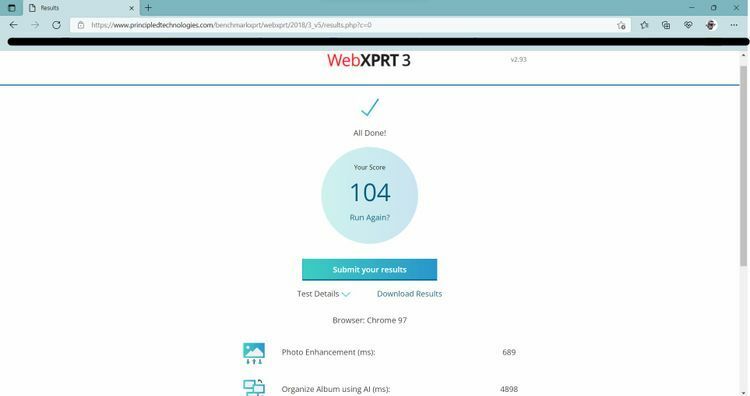 To accurately evaluate the performance of both Google Chrome and Microsoft Edge, I tested them in the industry-standard WebXPRT 3 benchmarking tool. I ran the tests in a clean install (no extensions enabled) of Google Chrome and Microsoft Edge, and the results were pretty close. Microsoft Edge scored 104 whereas Google Chrome was not far behind with a score of 100.
I carried out the Basemark Web 3.0 test on Chrome and Edge as well. Basemark Web 3.0 is designed to find client-side web performance issues and browser bottlenecks. Our results show that Chrome (rated 481) is better compared to Edge (rated 329).
Fast loading times and minimal response times are vital, both Chrome and Edge offer exceptional web performance on Windows 11.
Google Chrome vs. Microsoft Edge: RAM Consumption
Google Chrome is more popular than Microsoft Edge, but high RAM consumption has consistently been a very frustrating issue. Even the most ardent Chrome supporters agree that Google needs to fix this issue seriously. Luckily, Google has released several updates recently that have helped improve this issue in Google Chrome.
To test the RAM usage of both Google Chrome and Microsoft Edge, I reset my browsers and launched seven identical tabs on each browser separately, and measured the RAM and CPU consumption
through the Task Manager.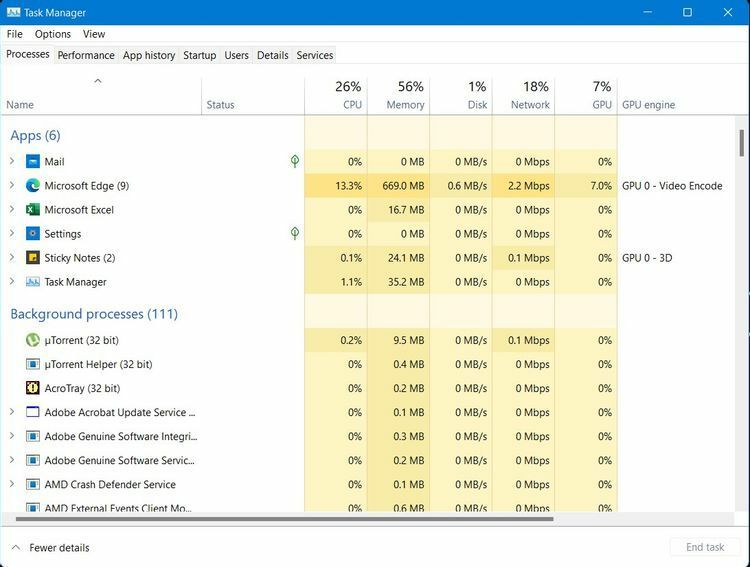 Google Chrome consumed approximately 850MB - 950MB; in contrast, Edge only consumed 650MB - 700MB of RAM. Microsoft Edge is lighter on your limited RAM and does not compromise on performance.
Google Chrome vs. Microsoft Edge: Engine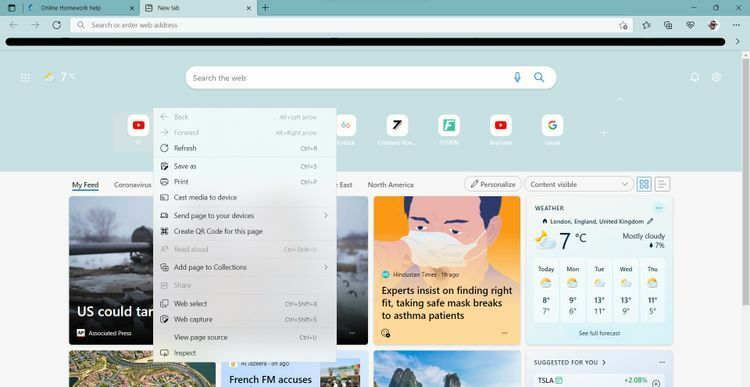 Microsoft Edge and Google Chrome both inherit elements of the user interface offered by Chromium.
In Windows 11, Edge has a clean, sleek design that makes the most of the new UI. For example, the right-click context menu within Edge features a translucent material, and some elements such as the Edge taskbar change their color depending on the background color. The new-look also features rounded corners and an overall simplified UI that prioritizes user experience.
Chrome, on the other hand, continues its classic well-defined UI design. To use dark mode on Chrome, you're going to have to change Personalization settings through the Windows 11 Settings app; but on Edge, you can enable it straight through the browser.
Both Edge and Chrome offer various themes that give your browsers the appearance you need.
Google Chrome vs. Microsoft Edge: Features
Google Chrome doesn't really offer any features that make it stand out. Years on, you still only get the basic web browser functionality. But, there are plenty of extensions that let you bring the best out of Google Chrome. Notably, Google Suite app integrations such as Drive, Docs, Translate are fantastic at making you more productive. There's hardly any feature that makes Chrome unique from its competitors like Edge, Brave, Vivaldi, or even Opera.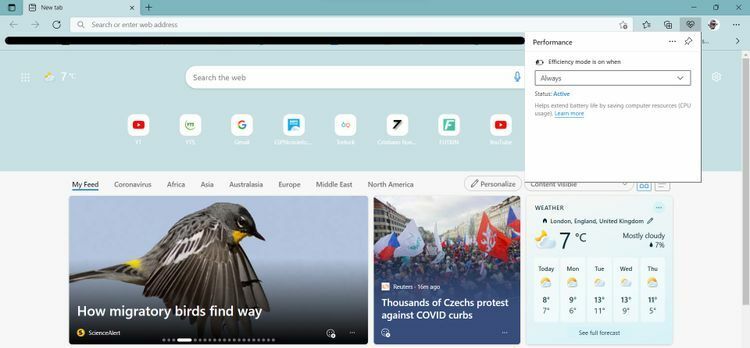 On the other hand, Microsoft Edge offers tons of unique features that elevate your browsing experience on Windows 11. You can organize your web pages into different Collections to stay on top of your web clippings and research. There's even a dedicated Performance feature that lets you enable Efficiency mode and limit consumption of system resources.
Another nifty feature within Microsoft Edge is a shopping add-on that allows you to save money while shopping online. It will automatically find coupon codes applicable on sites you visit and help you shop smart. There's even an immersive reading mode that minimizes distractions and works wonders as an accessibility tool.
It's pretty clear that Microsoft Edge is the more functional and feature-loaded browser.
Google Chrome vs. Microsoft Edge: Privacy & Security
Privacy is paramount in the digital world; it is vital that users have control over their data. Both Chrome and Edge offer comprehensive privacy and security settings that users can customize to their needs.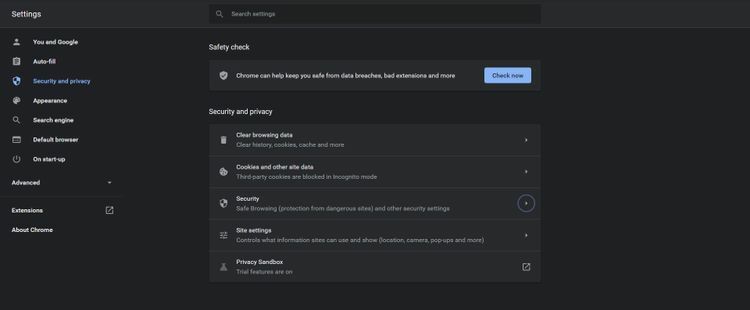 Previously, privacy and security settings on Google Chrome were not quite comprehensive, but recent updates offer options that have significantly improved the situation on this front. You can run Safety checks, manage cookies and site data, and even choose a security level between Enhanced, Standard, and No protection.
However, these settings are not easily accessible; it almost feels like Google doesn't want its users to manage their privacy and security preferences.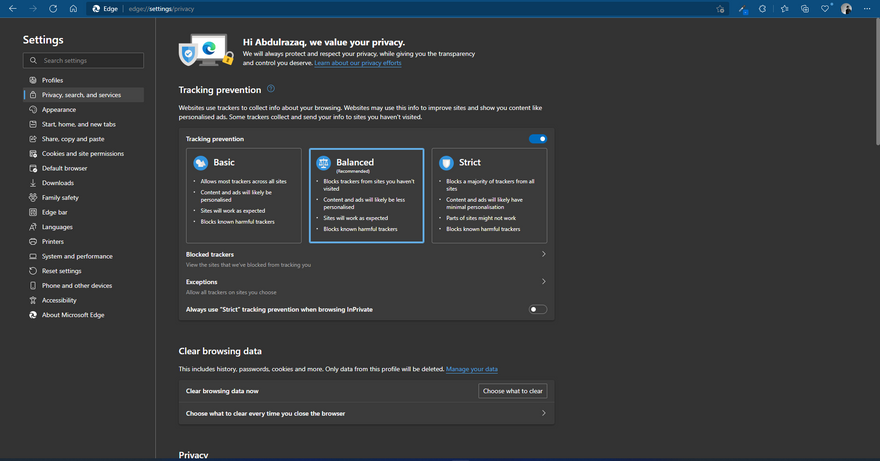 In contrast, Microsoft Edge has a clear and well-defined settings page that is easy to navigate to and offers users clear information on their privacy and security settings. You can personalize Tracking prevention and a dozen other settings to get in control of your data. Edge even offers built-in Microsoft Defender SmartScreen protection to fortify cybersecurity.
Chrome offers decent privacy and security settings, but Edge seems to give you more control over your privacy in a simplified way. The settings are straightforward to manage and understand for even the most non-technical users.
Edge Becomes Better on Windows 11
Google Chrome has been at the helm for over a decade, but it needs to quickly innovate to keep up with the competition. Better performance, newer features, and comprehensive privacy settings make Edge the better of the two.
Microsoft Edge is the Microsoft recommended browser on Windows 11, and perhaps this is the year you give it a shot. Edge has come a long way from its early days as an Internet Explorer successor and now promises its users a truly unique browsing experience.