Hey, y'all!
Things have slowed down significantly in PagerDuty land, so we figured now would be a great time to look back at all the cool stuff we got to be part of in 2022, in our own words.
Scott McAllister
Graduating the Terraform Provider to a dedicated engineer
When I joined PagerDuty back in 2019 one of the first things I was introduced to was the Terraform Provider for PagerDuty. It was an extremely active project that was created and run completely by members of the community. PagerDuty had no official involvement at the time.
A colleague mentioned how great it would be for someone at PagerDuty to contribute to the provider code. So, I dug into the project, learned Go, and opened a pull request. Since that time there have been nearly 450 more pull requests on the project, and we have been able to discover that users of the PagerDuty provider make more than 20-million API calls a week.
Because of this success we decided it was time to hire our first dedicated engineer to focus their time on Terraform provider development. José Antonio Reyes joined PagerDuty in July of this year and has taken ownership of Terraform provider development. I enjoyed my time working with the provider but I'm also excited to see where José takes it.
Back Out on the Road Again
One of my favorite highlights of 2022 has been the return to in-person events. I've had the opportunity to attend and present at several conferences this year. Here are a few of the highlights.
Kansas City Developer Conference (KCDC)

Scott McAllister

21:00 PM - 09 Aug 2022
GoLab

GoLab

@golab_conf

15:41 PM - 04 Oct 2022
Connect.Tech

Scott McAllister

20:48 PM - 09 Nov 2022
HashiTalks Build

Terraform Time
We also kicked off a show on the PagerDuty Twitch Channel this year called Terraform Time. Every Monday we talk about various topics surrounding Terraform. Among my favorite episodes were when we had Andreas Lundgren from Storytel join as a guest. He talked about using Terraform with Google Cloud Provider (GCP) and PagerDuty. He even wrote a blog post about his setup.
Another great episode was when we had Alena Pantuzenko from the PagerDuty Engineering team join and introduce the Event Orchestration feature she and her team added to the provider.
Mandi Walls
This year felt like two years squished together. We did so much stuff it's hard to keep track of all of it!
I was super happy to be back on the road to see all you folks at DevOpsDays. Shout out to the folks in:
Boise
Raleigh
DC
Charlotte
Tel Aviv!
It was great to chat with folks in different stages of their DevOps journeys about what they are learning and how their organizations are changing and improving. Reports of the demise of DevOps are greatly exaggerated. ;)
In between all the in-person events that restarted this year, we had some different stories on the podcast. Stuart Clark was our first guest talking about networking, which was super interesting! We also had Sean Steacy on to talk about one of my favorite things: turning off services that have lived their lives.
Additionally, I know different kinds of communities are important to tech folks, so I invited benny Vasquez on to talk about Open Source communities, and Mary Thengvall and Julie Gunderson to talk about Developer Communities.
I hope folks who are looking for a fun community join us here, or come hang out with us on Twitch, or join us on the podcast next year!
Kat Gaines
When I joined the team in October 2021, the first few conferences I was invited to present at were all virtual, and while those events were fun, this year I was able to spend some time on the road presenting at and attending conferences in person. It was really satisfying to connect with folks face-to-face and really exciting to pass that milestone of my first in-person talks as part of this team!
The events that put me on the road this year ranged from developer events to customer support focused events, and the support events felt pretty special because there are just fewer opportunities for this community to gather. ElevateCX was a high-impact agenda packed into two days, followed up not too much later by similar energy at Support Driven Expo. One of the other highlights was Dreamforce, where I partnered up with Sonal Moraes at Slack to talk about automating incident response across operations and service.
Even with IRL events being a ton of fun, there was joy to be found in virtual events too. Lesbians Who Tech was a hybrid event this year, and I was invited to speak during the virtual portion, where I was met by a curious and supportive audience whose welcoming energy I could feel through the screen.
Finally, I also really enjoyed some of the podcast episodes we worked on this year. Tying into the topics I spoke about at some of the customer support focused events mentioned above, one of my favorite conversations on the podcast was Support Career Stories, when I invited Andra Burck, Isabella Applen, and Pablo Gonzalez to share their career stories and advice for others. I'll echo Mandi's call to action to join us on the podcast because I really love having these conversations with our community!
Tara King
Joining PagerDuty!
My big win for the year absolutely has to be joining PagerDuty's Developer Advocacy team in May. It's been a delight to work with Kat, Mandi, and Scott, and to get to know the amazing community of folks who use PagerDuty every day. I even got to meet them all in person in July! And we had a legendary breakfast together: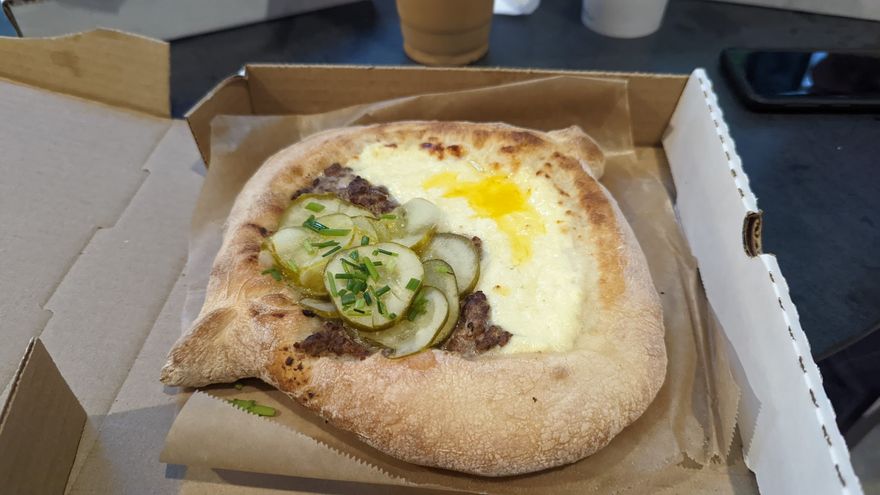 Also I now get to have a Pagey on my desk. 📟
Literature + Tech = ❤️
My other highlight was giving a brand new talk at Drupal Diversity & Inclusion Camp, called Stories Make Meaning; Meaning Makes Change. This event brings together a wide range of new and experienced speakers, and it felt like a really great space for launching a new talk combining my passion for diversity in tech with my love of literature & story structure.