Hi everyone! Welcome to the PagerDuty Community Weekly Update! We hope you all had an uneventful week. We hope you haven't been paged at 3am this week.
Alex Hidalgo

@ahidalgosre

When we talk about pages that suck, as an industry we seem to have converged at 03:00 being the worst time. I find that interesting and I'm curious if it's actually the worst time or if one of us started using it as the example bad page time and we decided it was good to repeat.

16:49 PM - 07 Oct 2022
Cool Stuff
Mandi posted about some experimenting she's been doing on the PagerDuty Garage on Twitch. Someone in our forums asked about notifications for maintenance windows, which aren't currently supported by the integrations, but we've got an API and some webhooks, and so we went on an adventure.
Want to see more maintenance windows action? They're now available in the mobile app!
Find us in person!
We have live in-person sessions coming up!
Scott gave his talk Built-in Testing in Go is More Than Just Passable to GoLab.io this week in Florence, Italy.

GoLab

@golab_conf

15:41 PM - 04 Oct 2022

He'll also be at Indy.Code() October 19! He'll also be talking about Client-side OAuth with PKCE.

Kat will be presenting at Lesbians Who Tech

Kat

@strawberryf1eld

I am speaking at the 9th Annual Lesbians Who Tech San Francisco Summit! I hope you can join me! Also if you need a ticket, DM me 😉

bit.ly/3dN5m1v

@Lesbiantech

#LWTSummit

17:05 PM - 30 Sep 2022

in San Francisco next week!

Mandi will be on BoothDuty at JFrog SwampUp in NYC October 18, and KubeCon North America in Detroit October 24-28. Stop by our booths!
We hope to see you! Say hi, we might have PagerDuty stickers. :D We're also gearing up for AWS Re:Invent at the end of November. Scott and Mandi will be in the PagerDuty booth!
Our automation folks are looking to start some in-person meetings with members of the Rundeck Open Source community. If that's you, let us know!
We're also virtual!
Mandi will be returning to All Day DevOps this year with Plan for Unplanned Work: Game Days with Chaos Engineering.
On the Podcast
We kicked off Cybersecurity Awareness Month with two PagerDuty security engineers, Megg Sage and Patrick Roserie! Listen online or subscribe in your favorite podcast app.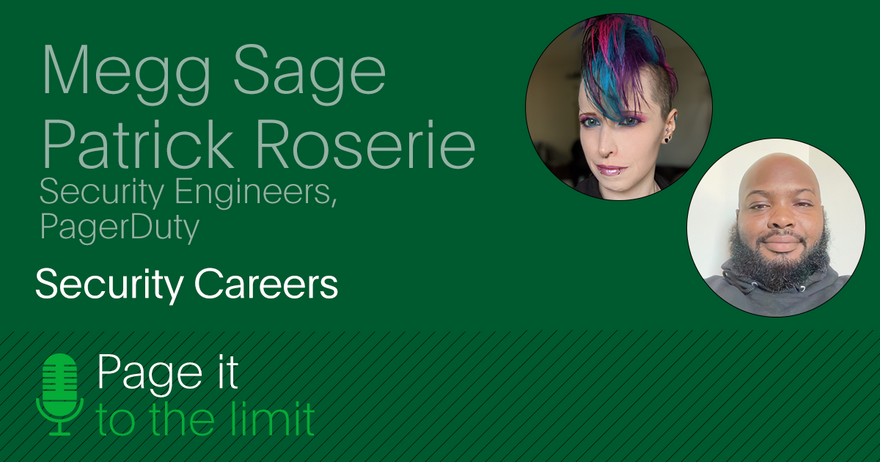 Have a suggestion for a guest we should have on? Let us know!
On Twitch
We're on Twitch three times a week, covering all things PagerDuty. Our regular shows are:
PagerDuty Garage, the show about the PagerDuty API: Mondays at 10am Eastern / 7am Pacific
Terraform Time: Mondays at 4pm Eastern / 1pm Pacific
HowTo Happy Hour: Fridays at 4pm Eastern / 1pm Pacific. Follow our channel for alerts when we go live! You can also view our most recent episodes on Twitch. You can see some of our earlier streams on the YouTube playlist.
Max Li and Everaldo Aguiar from our data science team joined us last week to talk about Intelligent Alert Grouping. If you missed it live, don't worry! It's now up on YouTube
Next week we'll be back with another Release Notes stream with the folks from the Process Automation team. Version 4.7.0 is out there, including a new plugin for Cloudwatch! Check out the full release notes and join us on Twitch next Wednesday, October 12, at 1pm Eastern / 10 am Pacific!
Get in Touch
If you have a question about PagerDuty, check out our Community Forums for advice from friendly folks. If you'd like to be on our podcast or Twitch, or just say hi, email us at community-team@pagerduty.com. We'd love to hear what you're doing with PagerDuty!
Follow us on Twitter!