Secure your stack with New Relic Vulnerability Management
After an incredible preview period, we are thrilled to announce that New Relic Vulnerability Management is is now generally available to all New Relic full-platform users. Vulnerability Management provides continuous runtime software composition analysis (SCA) and vulnerability assessment prioritization, with no additional configuration ​​when using supported New Relic APM agents. It also integrates New Relic native vulnerability signals and third-party security signals with our open ecosystem to monitor and manage telemetry and security data in one place. This provides developers, ops, and security teams with full-stack context for faster error resolution that eliminates organizational silos.
Further Learnings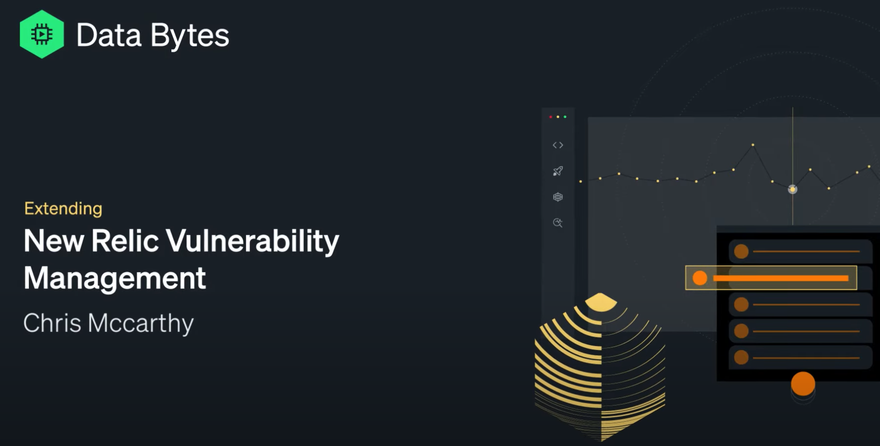 See how the Vulnerability Management experience simplifies vulnerability detection, prioritization, and remediation in this three-minute video.
New Benefits:
Zero configuration visibility: Instant and actionable security information with continuous runtime software composition analysis (SCA) for assessment with no additional configuration.

Vulnerability testing (limited preview): Interactive application security testing (IAST) for Java is now available in a limited preview. With IAST, you can perform testing without making any code changes or interrupting normal business operations.

Open third-party integrations: Unified security view across your stack and software lifecycle with the ability to add security data through our open ecosystem of built-in quickstarts and New Relic security APIs.

Automatic risk prioritization: Library security risk evaluation across your software stack, which is correlated with the service catalog to help you understand your security posture.

Alerting on newly discovered vulnerabilities: Notifications via Slack and webhooks when new vulnerabilities are introduced in your code base.
How To Get Access
There are two ways to access Vulnerability Management capabilities:
1. Enable the Vulnerability Management add-on: For a limited time, add Vulnerability Management to your current data ingest plan for just $0.06/GB—a 40% discount on our standard price of $0.10/GB—if you purchase by Jan 31, 2023.
2. Upgrade to Data Plus: This bundle gives you access to Vulnerability Management, 90-day extended retention, and higher query performance. At $0.50/GB for your data ingest, you save 60% and more compared to buying these capabilities individually.
To choose either of these options and learn more about pricing, go to the Vulnerability Management experience in your New Relic account.
End-of-life announcements: New TLS standard requirements
As part of our commitment to security and evolving regulatory Transport Layer Security (TLS) standards, we are updating our TLS requirements for all inbound connections to version 1.2 or above on February 1, 2023. Want to know more, ask a question, or leave a comment? Check out this Explorers Hub post.
Learn more about these new features and the rest of our latest releases by checking out What's new.
---
Join the New Relic Slack community to continue the conversation with hundreds of other developers using New Relic. 🌎
Not an existing New Relic user? Sign up for a free account to get started! 👨‍💻