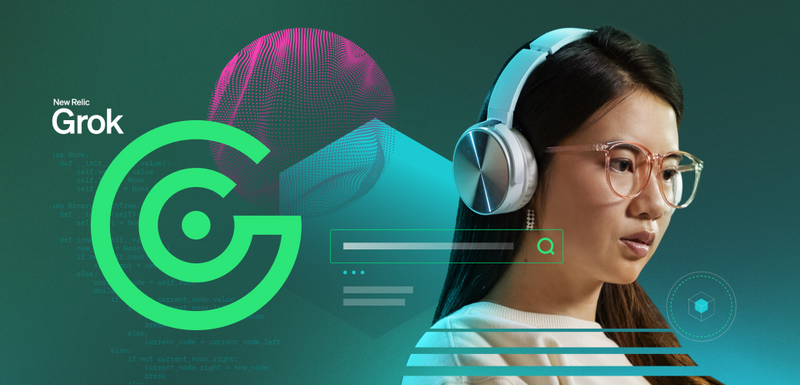 Meet New Relic Grok
Your GenAI assistant for observability
Using New Relic is now as easy as asking, "What's wrong with my app?"
By combining OpenAI's large language models (LLMs) and the New Relic unified telemetry data platform, New Relic Grok turns tons of telemetry data into instant insights. You can chat with New Relic Grok using everyday language, and it will help you find root causes, fix issues, set alerts, manage users, and more. Watch Demo
Now all engineers—from app developers, DevOps, and SREs to security, product, support, and QA teams—can become pros at observability and resolve issues faster, reduce outages, and increase development velocity and innovation.
Ready to grok? Get Early Access
Here are some things New Relic Grok can do for you:
Instrument & onboard: Fix missing instrumentation, set up alerts, and provide docs and onboarding help in-product.

Isolate root causes: Conduct analysis of heaps of telemetry data and recent software stack updates to find insights and causes.

Debug code: Pinpoint errors down to the line of code in the IDE, get a clear explanation of them, and see suggested fixes.

Generate reports: Generate a system/app health report with anomalies, issues, and recent deployments.

Natural language queries: Translates human speak (in over 50 languages) into queries and explains query results for easy sharing, even with execs.

Manage admin tasks: Manage your account, users, data retention rules, usage, billing, and more.
Learn more about New Relic Grok

DevOps Days Austin
Hang out with us at DevOps Days Austin from May 4–5 to connect with leaders in the vibrant TechHub in Central Texas! New Relic is a Platinum sponsor and we've got awesome swag, small workshops, and sessions that you don't want to miss!

Register Now
FutureStack NYC
Join us May 24 for this free, one-day event where creators come together to see how observability gives them the data to plan, build, deploy, and run great software. Space is limited and passes are going fast, so be sure to register today! Register Now
---
Not an existing New Relic user? Sign up for a free account to get started! 👨‍💻