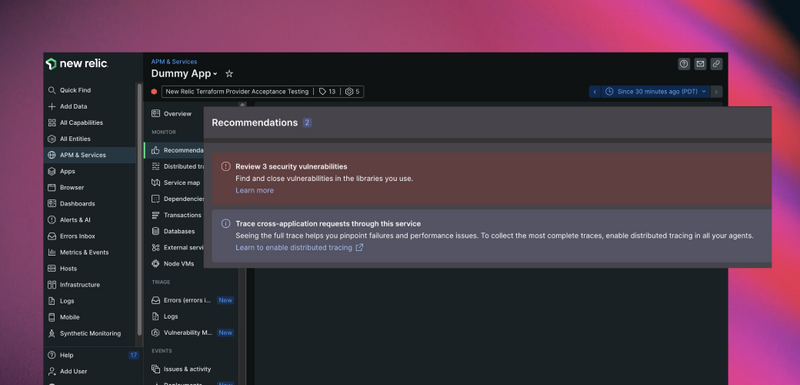 Uplevel your monitoring with the APM recommendations center
Take your monitoring platform to the next level with the new APM recommendations center. Quickly discover and implement capabilities you aren't using so that you can find issues faster across your entire stack and improve your uptime, performance, and reliability.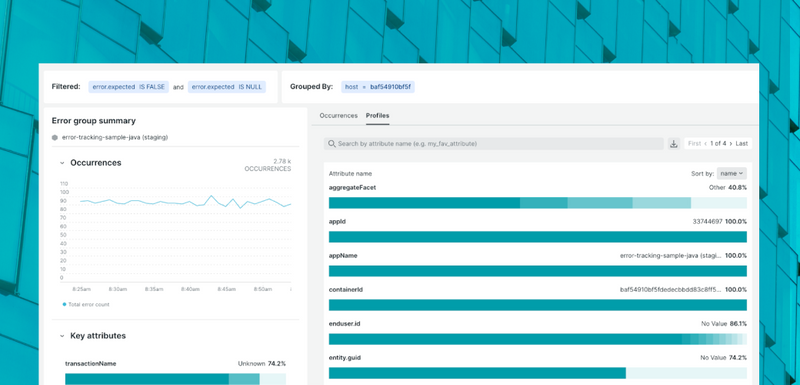 Quickly analyze and triage your errors with the new errors experience
We're rolling out the new errors experience, which is designed to up-level how you monitor your systems and applications for errors, debug and push fixes, and improve your output. Get from detection to analysis to triage with just a few clicks.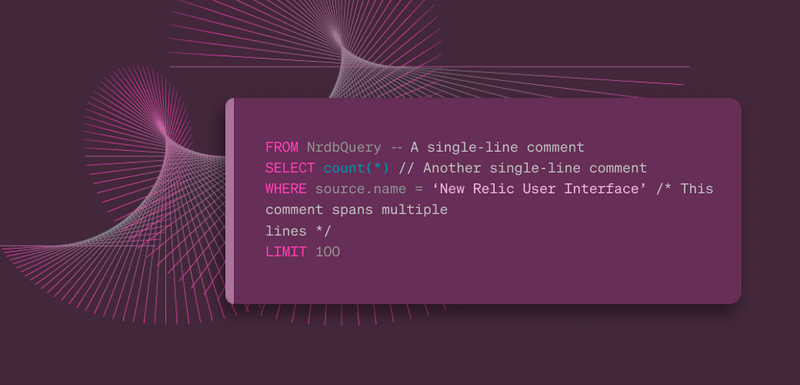 Document or debug your NRQL queries using comments
Comments can now be used in New Relic query language (NRQL) queries to easily add context to a complex query, comment out a line temporarily, or just explain the events or attributes being queried in the New Relic database (NRDB).
Learn More

Authentication log monitoring
Discover the importance of monitoring and logging user authentication flows to identify and fix issues, especially with multiple authentication systems. Learn how to monitor services, log events, and gain insight into users' login experiences while protecting your system from malicious access.
A complete guide to distributed tracing
In this blog post, learn about distributed tracing—a powerful diagnostic tool—and how to use it, including examples from New Relic.

Read More
Why you should combine CI/CD and change tracking
Deploy quickly and confidently with continuous integration and continuous delivery (CI/CD) and automated change tracking. Integrate full-stack observability and change tracking into your continuous integration and delivery pipelines.

Read More

DevOps Days Austin
Hang out with us at DevOps Days Austin from May 4–5 to connect with leaders in the vibrant TechHub in Central Texas! New Relic is a Platinum sponsor and we've got awesome swag, small workshops, and sessions that you don't want to miss!
Register Now
FutureStack NYC
Join us May 24 for this free, one-day event where creators come together to see how observability gives them the data to plan, build, deploy, and run great software. Space is limited and passes are going fast, so be sure to register today! Register Now
Weekly Webinars: Get Started with New Relic
Join us each week for our series of public webinars. Whether you're just discovering observability, you're a new user on the platform, or you simply have questions, we have a session for you.

New to Synthetics Scripting? Start here!
Writing Synthetics scripts can seem daunting if you haven't tackled it before, so we've created a library of scripts to help you get started.
---
Not an existing New Relic user? Sign up for a free account to get started! 👨‍💻