Here's the scoop on the latest New Relic product innovations, partnerships, and events: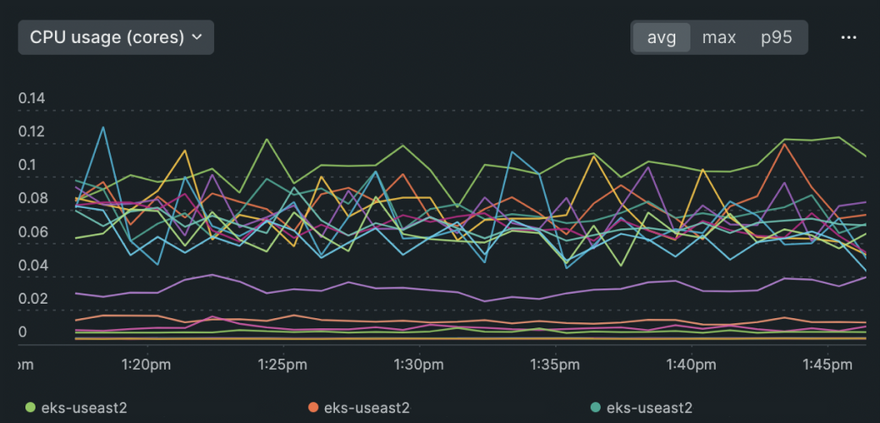 Optimize the performance of multi-cluster Kubernetes workloads
Analyze your workload performance across all your clusters in a single, curated UI where you can correlate performance anomalies across clusters with one-click logs and customizable metrics side by side. After logging in to New Relic, select APM, then navigate to Kubernetes from the left-hand sub-menu to get started. Learn More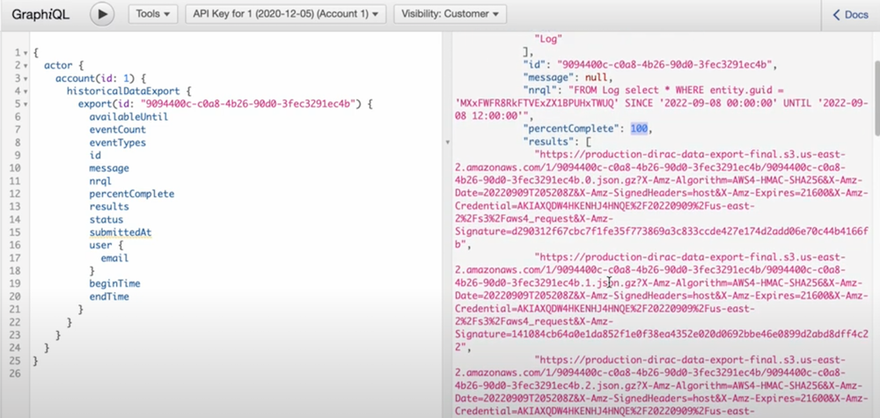 Export historical data with Data Plus
Fulfilling compliance needs just got easier. Data Plus customers can now export their historical data from New Relic for greater flexibility for historical analysis and modeling, long-term storage, and integration with other data analytics platforms. Watch Demo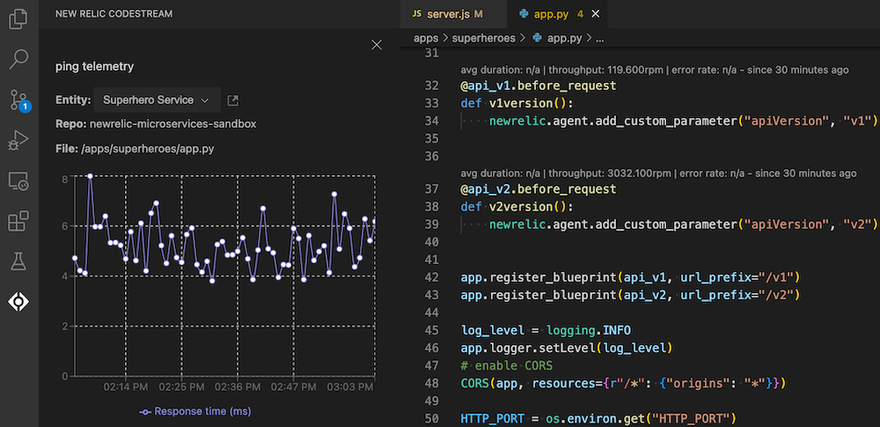 Access golden signals in your IDE with CodeStream
Ruby users can now access the latest observability features, like golden signals visible down to the method level, when they update their agent to v.8.8.0 and above. Check out our demo and blog, and explore more about New Relic CodeStream here. Update Your Ruby Agent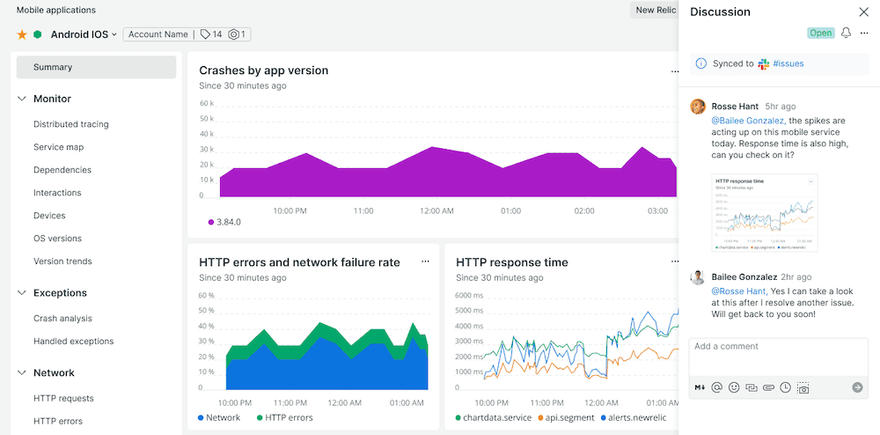 Collaborate with your teammates directly from New Relic
Streamline your workflow and resolve issues faster by keeping discussions alongside your data (now in Limited Preview). Our two-way Slack integration lets you share screenshots and comments directly between the New Relic platform and Slack. Start Collaborating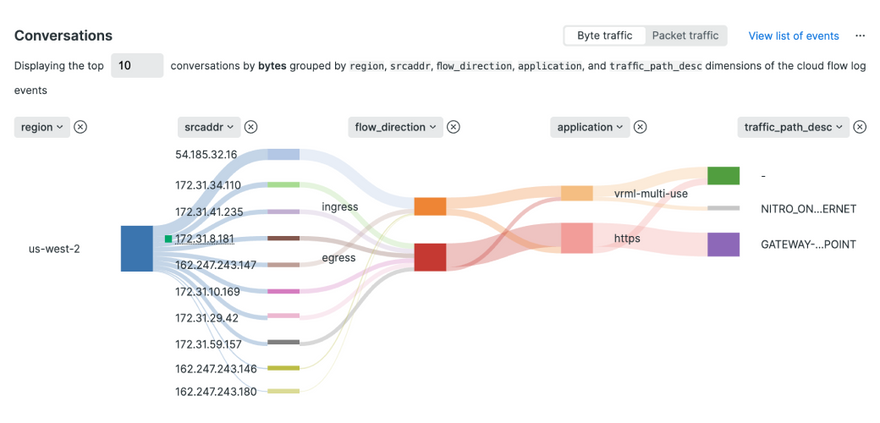 Now available: Support for Amazon VPC Flow Logs via Amazon Kinesis Data Firehose
Amazon Virtual Private Cloud (VPC) Flow Logs allow you to launch AWS resources into an isolated and secure virtual network with the benefits of using their scalable infrastructure. With Amazon VPC Flow Logs in New Relic (via Amazon Data Kinesis Data Firehose), you can simplify network performance monitoring and answer the question, "Is it the network?"
Learn More
Deliver better livestream events with fused testing | Webinar Sept. 28
Livestream product and ops teams face more and more events, higher customer expectations, and more devices. Join media and entertainment quality assurance leaders and learn best practices for testing, automation, and issue resolution to deliver high quality livestream events. Register Now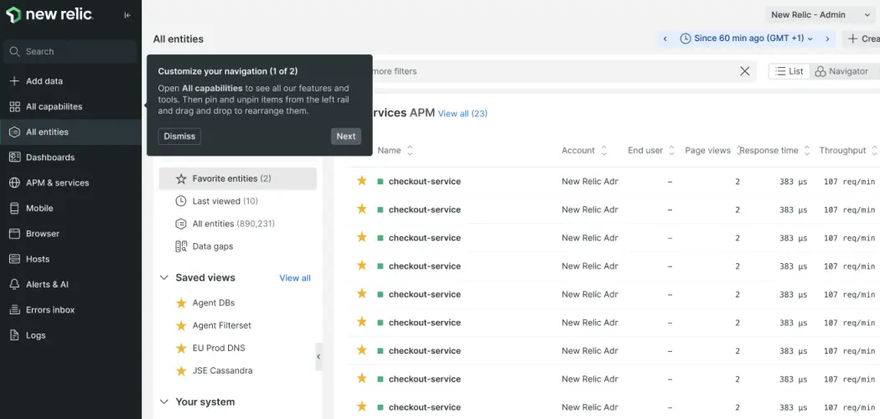 New UI turned on by default 10/17
On October 17, 2022, the New Relic redesigned UI will be turned on by default for all users. It's simpler, faster, and more convenient, allowing you to better focus on the data that matters most. Turn off the new design at any time by navigating to your account menu and toggling New design to Off. Check out our demo video for more info. Learn More
End of Life Announcements
New TLS standard requirements: As part of our commitment to security and evolving regulatory Transport Layer Security (TLS) standards, we are updating our TLS requirements for all inbound connections to a minimum version of 1.2 or above, effective October 24, 2022. Read more about this update on this Explorers Hub post, and leave a comment with any questions or concerns. Learn More
Support Tip of the Week: Use Permalinks to share New Relic with your team
It takes a village to solve a web app performance problem, and it helps when the village is on the same page. That's why we've made it easy to share links to dashboards and views with your teams. Here's more on how to use Permalinks. Get Started
---
Join New Relic's Slack community to continue the conversation with hundreds of other developers using New Relic.
Not an existing New Relic user? Sign up for a free account to get started!