What's new at New Relic
Connected infra and APM experience is now generally available
Get a complete view of how application and infrastructure performance are interrelated, with infrastructure telemetry data embedded in the APM UI. GA enhancements include interactive performance scorecards and one-click access to metrics you use most.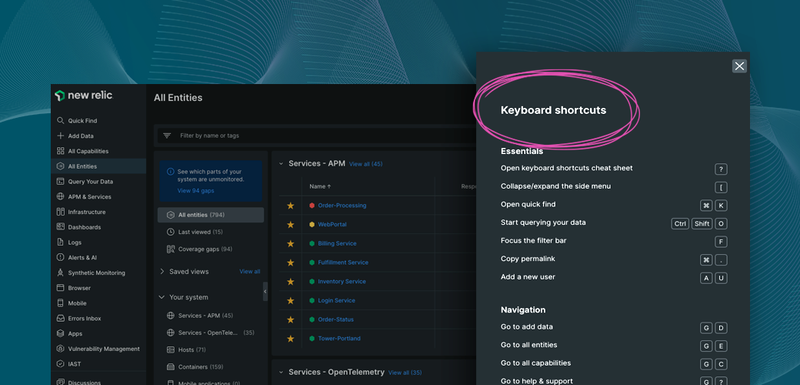 Boost your efficiency with Quick Find and keyboard shortcuts
Get faster access to vital information and streamline your workflow with improved search capabilities (now called Quick Find), global keyboard shortcuts, and collapsible second-level navigation.

Unlock the power of observability for marketing leaders
Elevate your marketing with observability! Explore our blog on harnessing New Relic's capabilities for unmatched website performance, campaign insights, and backend monitoring.

DevOpsDays Indianapolis
Come visit us in Indianapolis for DevOpsDays from October 5–6. We're a Platinum sponsor, so stop by our booth for cool swag and join our workshops in our breakout room to deep dive into specific skills and solutions. See you there!
Register Now
All Things Open
New Relic is a Silver sponsor at All Things Open's 11th year! Our DevRel Relics, Leon Adato and Reese Lee, will be conducting sessions that you don't want to miss! Visit our booth to play games, get prizes, and learn cool things. Use this registration discount code to ensure you don't miss out on any fun!

[Online Workshop] How to Master Software Remediation using New Relic Vulnerability Management
Mitigating threats is no longer the sole responsibility of security teams; it's a shared responsibility of all engineers to have a security mindset across the development pipeline. Join us on September 13 to get a comprehensive introduction to New Relic Vulnerability Management.

How to Find and Export a List of Hosts You're Running
There's a simple New Relic Query Language (NRQL) query that will help you find all of the hosts you're running and then export it to an Excel file.
---
Not an existing New Relic user? Sign up for a free account to get started!