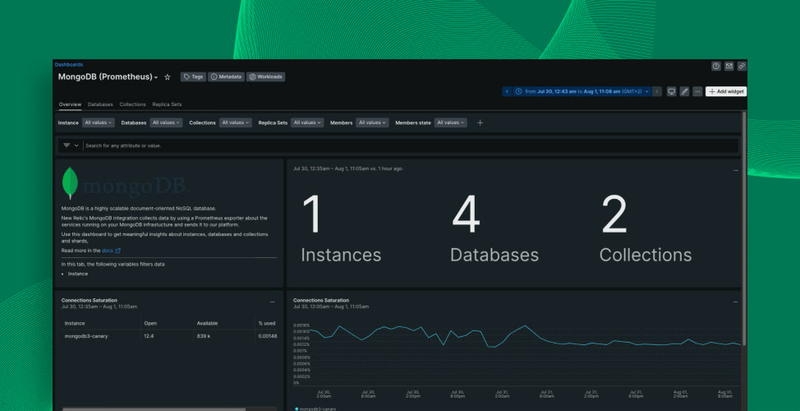 Analyze MongoDB performance with our new integration
We've released a significant upgrade to our MongoDB integration, giving you an improved monitoring experience without installing any third-party software. This on-host integration allows you to track key metrics and gain critical insights into how your MongoDB instances are performing.

How to use IAST to prove exploitable vulnerabilities within your first-party code
Discover how New Relic interactive application security testing (IAST) enhances code security. Learn to detect, validate, and fix exploitable vulnerabilities in your first-party code, enabling a true "shift-left" in software security.

New Relic User Group Meetups Summer Series
New Relic user meetups are back and you're invited! Join us for one of upcoming user group meetups happening across the US and Canada this summer with food, drinks, and of course—data talk! We've got a jam-packed agenda and we'll wrap up with a little fun playing golf, arcade games, or ping pong (depending on your city)!

Troubleshooting applications and backend performance with APM 360 - Wed, Aug 23
Discover New Relic APM 360, the cutting-edge APM solution for modern distributed applications. Gain a unified view of critical telemetry across your stack and development lifecycle, preventing issues before they escalate. Troubleshoot faster with integrated infrastructure monitoring, error user impact analysis, and unified distributed traces.

Creating and Editing Metric Normalization Rules with NerdGraph
NerdGraph is our GraphQL-format API that lets you query New Relic data and configure some New Relic features. If you are experiencing Metric Grouping Issues, you can use NerdGraph to programmatically apply rules across all your applications at once.
Learn more about NerdGraph and the endpoints you'll need to get started
---
Not an existing New Relic user? Sign up for a free account to get started!